Jewelry beginner often puzzled for a wide variety of diamond products, such as the difference between rhinestone loose beads and zircon loose beads. Let us discuss regarding the big difference between these beads.
Zircon is the actual gemstone, so the value is much higher than rhinestone. The hardness of zircon might be much better. Rhinestone beads are artificial. In some other words, rhinestone beads are glass beads which are very delicate and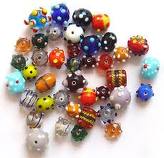 bright. What are rhinestone beads? Rhinestone beads are crystal glass, which has cutting surface as diamond. This material is more economic and has eye-catching light as diamond, so rhinestone is popular by people. And what are zircon beads? Zircon beads are different, which is not glass. Zircon beads are gem, whose price is much higher than the quartz beads. Usually, the color could be divided into colorless, blue, red, brown, yellow and green. How to select Zircon beads? The most important factors are color, clarity, cutting and grinding style and weight. The most popular colors of Zircon are colorless and blue. Zircon beads are highest quality gem, because of its high dispersion and transparent colorless, which are often used for diamond substitutes.
In summary, the difference between rhinestone beads and zircon beads are plenty. Have you found something from the words?